About me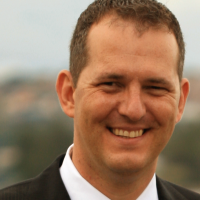 I am Tom Voirol and I am a web consultant with experience reaching back as far as the commercial web is old. I set up what may have been Switzerland's first blogs in 1996, a year before the term was coined. I have designed and built websites, content management systems, online applications and intranets since 1994.
Along the way I picked up a fair bit of knowledge about document and records management, process optimisation and business analysis and have managed successful digital agencies both in Australia and Europe. Teaching and public speaking on the subjects I'm passionate about are a regular occurrence in my life.
I am currently studying for an MBA at Macquarie Graduate School of Management with the aim to strengthen my business knowledge.
What I can do for you
As a consultant I specialise in taking real world problems and mapping them to online systems.
This allows me to
create, review or develop your online strategy
help you implement your strategy by planning, overseeing or managing your web project
improve the user experience on your existing website, intranet or online application
aid you in finding out how your brand can be strengthened through engaging in social media
select the ideal web development agency, content management system or online staff for your business
My aim is for your website to achieve the goals of your organisation and exceed the expectations of your users, customers, members, management and clients. I believe that websites must be built around what the customer thinks, feels, wants and does. They need to be usable in an elegant, clever, unobtrusive and ultimately satisfying way. My user-centric design approach combines the best parts of creativity, analysis and testing.
Why you would want to work with me
You will have an online strategy which aligns your web efforts with your business operations, and vice versa
You will create an intuitively usable and customer-centric website
I will be completely honest and transparent with you
I don't try to dazzle you with techno-speak but rather will break down any complexities into language that matters to you
I will immerse myself in your business, effectively becoming an extension of your team
I am happy to work with your in-house team, your current internet agency or I can assemble a virtual agency of top specialists to implement your site
What clients have said about me
Tom has one of the sharpest minds in application design and development in the industry today. His ability to see applications from every angle and to come up with innovative solutions is second to none - especially in areas such as custom-built content management systems. Tom is also a pleasure to work with - calm and relaxed under pressure.
Russ Weakley, Web Designer, Australian Museum
Tom is a lateral thinker who has developed initiatives for us which have always excelled. I have no hesitation in recommending him, as his website establishment and structural foundation work - as well as his creative nous - is excellent.
Tara Poole, Associate Director, Horizon Communication Group
I hired Tom to work on the design and development of a major intranet project and a website with backend integration. Tom displays an immense knowledge of his subject and impresses with his understanding of your requirements and his ability to find solutions. What I valued in Tom was his willingness to challenge my decisions and work towards more complete outcomes. Tom is an absolute pleasure to work with. He remains calm in all situations and maintains a wicked sense of humour which is a real bonus. I would have no hesitation in hiring Tom again for any future projects in the knowledge that they would be in safe and very capable hands.
Stephanie Hardcastle, Marketing Manager, Clarius Group
What next?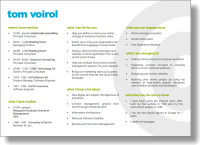 Download my full cv to learn a little bit more about me.
Get in touch with me to have a chat about how I can help your organisation succeed online.